Zucchini School Assembly Topic Examples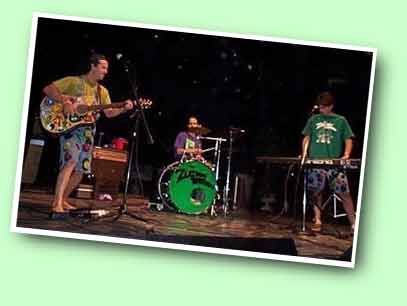 100% HEALTHY 100% FUN!:
The emphasis is on personal health, hygiene, self-esteem, eating well and making good choices. Songs include: "You Are What You Eat", "I'm Myself", "Green Teeth", "Fruit Song", "Clean Your Room", and "Bein' A Kid".
SAFE AND SOUND:
With a focus on Stranger Safety, this upbeat assembly emphasizes the many important things kids should know and understand. Songs include: "Learn Your Address and Phone", "Remember the Adults You Trust", "It's Safer With Two", and "Leave Me Alone".
YOU ARE REUSABLE:
This environmental show emphasizes the importance of taking care of the planet AND taking care of yourself as well. Songs include: "You Are Reusable", "Bad Pollution", "The Landfill Song (Reduce Reuse Recycle)", "Pick Up the Papers and the Trash", "In the Center", and "Clean Your Room."
RISE AND SHINE:
A show about motivation, respect, and getting things done with a positive attitude! Songs include: "Rise and Shine", "Excuses", "Back of the Line", "Share","The Teacher Song (teachers are people too!)", and "Wake Up Sam."
HAPPY HOLIDAYS!:
The Zucchini Brothers offer up their own original twist on the holiday season. Songs include: "Real Holiday", "Homemade Gift", "Holiday Grouch", "I Can't Put This Toy Together", and "Winter Song".
GIMME A BOOST! / Booster Seat & Automobile Safety (K-2):
A show for the K-2nd grade that emphasizes the importance of using a booster seat (a law in many states), as well as other important information that'll help make riding in a car or bus safe and fun! Songs include: "Ride Restrained", "Give Me A Boost", "Backseat", "Roadtrip" and "School Bus (Magic Bus)."
...or...
MIX AND MATCH!
Our song selection and theme for your assembly can be a combination of any of the above topics. Your school can decide where you want the emphasis to be! We can also provide concerts that are tailored to school-specific events such as PARP (Parents as Reading Partners) kickoffs and endings, No TV Week, Field Days, Family Fun Night, etc...

©2003 The Zucchini Brothers | site design by guerrillawebsites
Additional design by Sam Zucchini